PERFORMANCE
Monongahela All Capital Value Fund (MCMVX) - Monthly Returns
MCMVX Monthly Returns (net of all fees and expenses)
JAN
FEB
MAR
APR
MAY
JUN
JUL
AUG
SEP
OCT
NOV
DEC
YEAR
S&P 500 Index
Plus Dividends
2018
3.55%
(4.59)%
(0.50)%
(1.44)%
0.95%
1.16%
4.30%
2017
2.87%
3.01%
0.37%
0.58%
(1.09)%
2.71%
0.86%
(0.92)%
4.50%
1.02%
3.85%
1.42%
20.76%
21.83%
2016
(4.24)%
2.02%
7.07%
0.70%
0.00%
0.79%
4.86%
1.90%
0.65%
(1.53)%
6.39%
1.40%
21.29%
11.96%
2015
(2.58)%
4.58%
(0.42)%
(0.93)%
0.00%
(0.68)%
(0.34)%
(5.61)%
(5.21)%
7.81%
0.89%
(2.04)%
(5.15)%
1.38%
2014
(4.82)%
3.09%
1.73%
0.54%
0.62%
1.94%

(1.99)%
3.36%
(2.22)%
1.05%
1.39%
1.32%
5.84%
13.69%
2013
N/A*
N/A*
N/A*
N/A*
N/A*
N/A*
1.10%
(0.40)%
5.66%
2.54%
2.29%
2.05%
N/A*
N/A*
*The Fund was opened July 1, 2013
GROSS EXPENSE RATIO 4.29%
NET EXPENSE RATIO 0.85%*
*Monongahela Capital Management has contractually agreed to waive its fee or reimburse expenses to limit total annual operating expenses to 0.85% through September 1, 2018.
Average Annual Net Return as of July 2018
Net Return (as of Month-End)
July
Year to Date
12 Month
Return
Since Inception
Annualized
Since Inception
Aggregate
MCMVX
4.30%
3.19%
13.69%
11.36%
72.81%
S&P 500 Index
plus dividends
3.72%
6.47%
16.24%
13.88%
93.62%
Average Annual Net Return as of June 30th 2018
Net Return (as of Quarter-End)
Sep 2017
Dec 2017
Mar 2018
Jun 2018
1-Year
Return
Since Inception
Annualized
MCMVX
4.42%
6.41%
(1.70)%
0.65%
9.93%
10.63%
S&P 500 Index
plus dividends
4.48%
6.64%
(0.76)%
3.43%
14.37%
13.30%
HYPOTHETICAL GROWTH OF $10,000 (Month-End)
As of July 31, 2018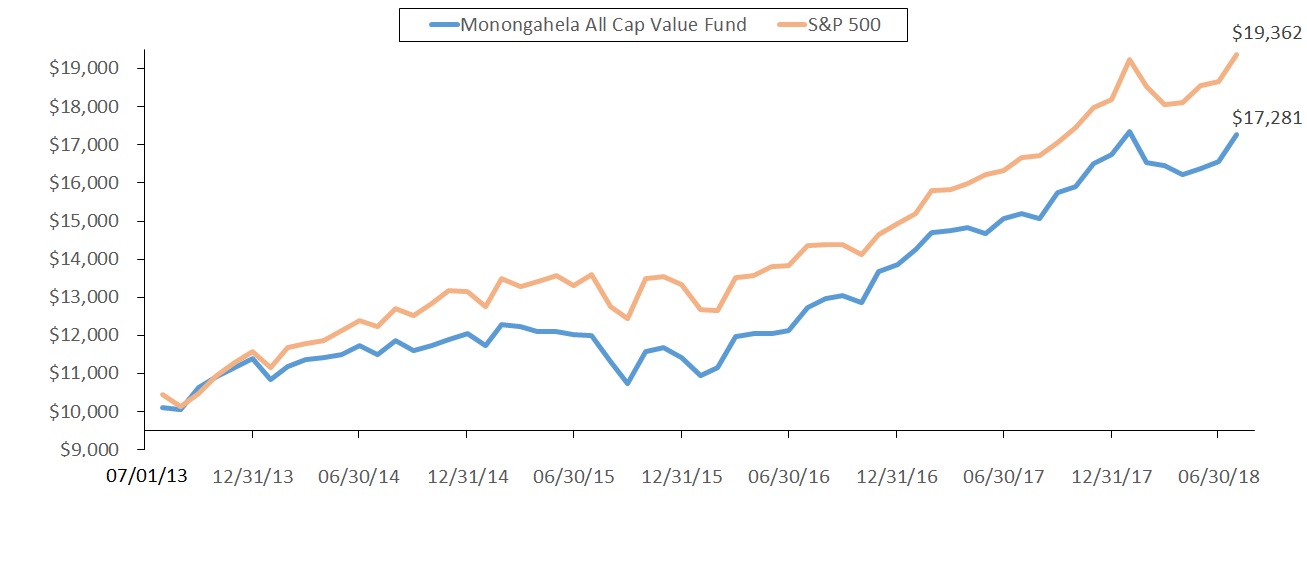 The quoted performance represents past performance, which does not guarantee future results. Current performance may be lower or higher. The investment return and principal value of an investment will fluctuate so that shares, when redeemed, may be worth more or less than their original cost.
Performance detailed above reflects the actual performance of the Fund net of all fees and expenses.
All performance shown is total return assuming automatic reinvestment of the Fund's distributions. Returns reflect fee waivers and/or expense reimbursements in effect during those periods, and would have been lower in their absence.
The performance shown does not reflect a 1% redemption fee applied to shares redeemed within 60 days of purchase.